Description
V-Drum Sound and Playability at an Affordable Price
In terms of expressiveness, playability, and sound, drummers will tell you that Roland V-Drums electronic drum kits have few peers. For players looking for the V-Drums experience at an affordable price, Roland has created the Roland V-Drums TD-07DMK electronic drum set. Inspired by Roland's flagship TD drum module, the TD-07 module comes preloaded with 25 fantastic factory kits comprising over 140 individual sounds, with 25 user slots for configuring custom kits. The Roland TD-07DMK boasts one PDX-8 10-inch snare pad with independent head and rim zones. There's also three PDX-6A 6-inch single-zone tom pads with tunable mesh heads, which deliver a satisfying acoustic-like feel while remaining quiet so you can practice without disturbing family, roommates, or neighbors!
Related Videos:
 

V-Drums TD-07DMK Electronic Drum Set
TD-07 module with 25 preset kits
The TD-07DMK's included TD-07 sound module comes loaded with 25 of Roland's latest preset kits, comprising 143 instruments to cover all essential sonic territories — from rock to EDM and beyond. Drum sounds are quick to load up and fast to dial in. Additionally, with 30 select effects, an overhead mic simulator, and pad equalizers, you can tweak the sound of your kit for a drum tone that's all your own!
MIDI over USB for virtual instruments
If you play virtual instruments, then you'll love the TD-07DMK's MIDI capabilities. A single USB cord connects your V-Drums to your laptop or compatible mobile device. With this functionality, your performances will breathe and pump with the heart of a human drummer, yielding sounds that are guaranteed to stand the test of time.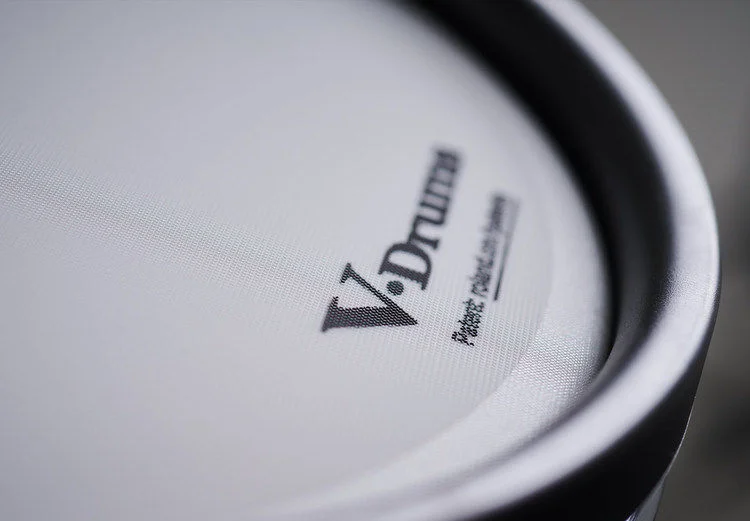 Tunable mesh snare and tom heads
Like your snare tight for extra rebound? Like your toms to give a little and sticks to sink in? Both these options and extremes on either side of the spectrum are possible with the TD-07DMK's tunable dual-layer mesh heads. Mesh heads have been a hallmark of the V-Drums series for years, and the TD-07DMK doesn't disappoint in that regard. These heads are not only lifelike, but they are also are studio quiet. You can plug in your headphones and drum the night away without disturbing the neighbors.
Loaded with practice features
Five onboard coaching functions, including time check, quiet count, and change-up, can set your drumming feet on a firm foundation or advance your playing skills in no time flat. Whether you're a veteran drummer or it's your first time around the block, the TD-07DMKcan take your playing to the next level.
Stream songs and MIDI over Bluetooth
An onboard Bluetooth 4.2 transceiver gives the TD-07DMK the edge for practice and recording. Stream music from your phone to the module wirelessly, without cables, and play along to your heart's content. When you're ready to bottle that inspiration, the TD-07DMK also features MIDI over Bluetooth to send MIDI note values out to a compatible device. Audio/MIDI over USB is also available.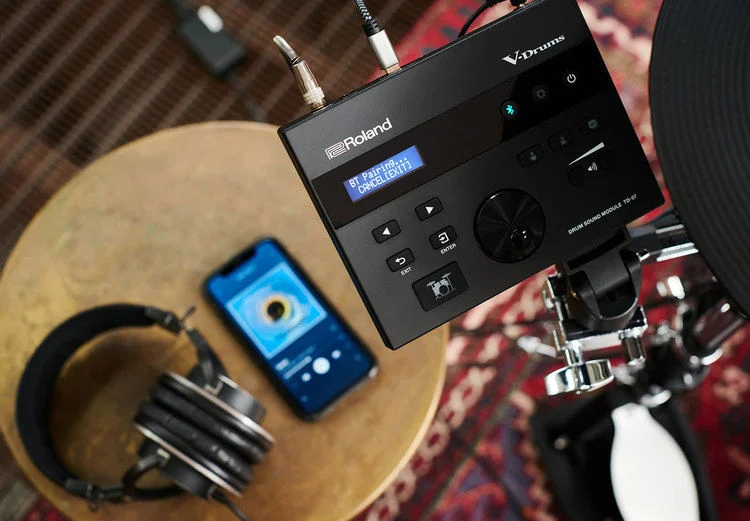 Roland V-Drums TD-07DMK Electronic Drum Set Features:
Sounds, pads, and features inspired by Roland's top-level V-Drums
25 preset kits, 25 user kits, and 143 drum/percussion sounds inspired by the flagship TD-50
Tunable mesh pads deliver a custom playing response
Weight-optimized cymbals swing and sway like the real thing
KD-10 kick pad is stable and dynamic
Onboard Bluetooth 4.2 transceiver — streams music from your phone or sends MIDI data out
MIDI over USB — trigger virtual instruments within your DAW
Includes compact drum

 stand